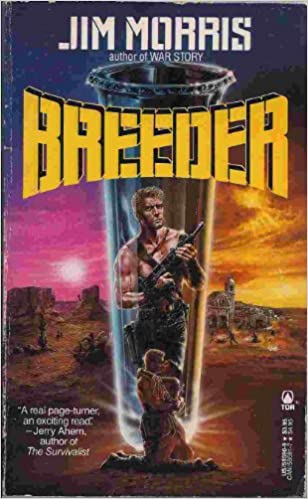 Jeff Clendenning was a science project, the perfect badass hero who could kill any man, and replicate himself by seducing and impregnating any woman he wanted. He was a breeder…but he didn't know it.
He was supposed to stay in the Potemkin village lab he was born into, not thrust into a guerrilla war–an America torn by civil disobedience. And there he was, released into a world of avid fertile women. The results were fun for awhile, but then… Well, there are situations where being the perfect adventure hero will not help you.
About the Author:
Jim Morris served three tours with Special Forces (The Green Berets) in Vietnam. The second and third were cut short by serious wounds. He retired of wounds as a major. He has maintained his interest in the mountain peoples of Vietnam with whom he fought, and has been, for many years, a refugee and civil rights activist on their behalf.
His Vietnam memoir War Story won the first Bernal Diaz Award for military non-fiction. Morris is author of the story from which the film Operation Dumbo Drop was made, and has produced numerous documentary television episodes about the Vietnam War. He is author of three books of non-fiction and four novels. He has appeared on MSNBC as a commentator on Special Operations. Visit the author's website at www.jimmorriswarstory.com.